RAMSEY CORP IS HOME OF AUTO LOAN SPECIALIST ! THIS VEHICLE COMES WITH 18 MONTHS OR 26,056 MILES FACTORY DRIVE TRAIN WARRANTY; EXTENDED WARRANTIES AVAILABLE. FAMILY OWNED, NO COMMISSION SALES, NATIONWIDE SHIPPING RATES
Leather / Heated Seating
Rear Parking Camera / Bird Eye
Bose Premium Sound System
3RD Row Seating
Lane Departure
Xenon Headlamps
Navigation
Sunroof
2018 BUICK ENCLAVE PREMIUM
5GAEVBKWXJJ124861
4 DOOR SPORT UTILITY
3.6L V6 F DOHC 24V
ALL WHEEL DRIVE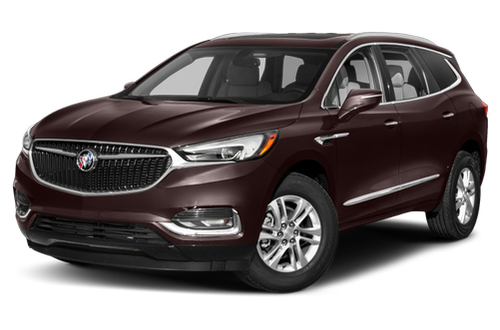 The verdict:
The 2018 Enclave is a comfortable, premium family SUV with a quiet cabin, smooth ride and up-to-date technology.
Versus the competition:
The redesigned Enclave is roomier, quieter and has more user-friendly technology than its rivals.
For 2018, Buick completely redesigned its oldest SUV: the big Enclave, a three-row SUV that seats seven. The premium familyhauler is aimed, Buick says, at buyers with a little more money and a more aspirational outlook than shoppers of, say, its GM sister vehicle, the Chevrolet Traverse — or a minivan.
Buick is also trying to inch a little closer to the luxury brands with the introduction of an upmarket Avenir trim level of the Enclave. Buick plans to introduce Avenir versions across its lineup in hopes of cloning the success GMC has had with dressed-up Denali versions of its vehicles. The Enclave also comes in its base, Essence and Premium trim levels.
Three-row crossovers are an increasingly competitive vehicle class. Buick aims to stand out by being more premium than mainstream SUVs, but without trying to match high-end luxury brands (and their nosebleed prices). The Enclave's archrival in that space is the Acura MDX, and its competition also includes the Infiniti QX60. Nipping at its heels, meanwhile, are higher trim levels of three-row SUVs from mainstream brands.
I drove the new Enclave on highways and back roads in Georgia and North Carolina at a Buick-hosted launch event. (Per our ethics policy, Cars.com pays its airfare and lodging expenses for such events.) I spent some time in the new Avenir to assess what it brings to the party, but my primary test vehicle was a well-optioned Enclave Premium priced at $56,455 including destination.
Looking Good Is Half the Battle
The new Buick Enclave resembles its predecessor (a favorite of mine among the related big SUVs from GM), but with some sharper sculpting, a little more drama up front and a trendy "floating roof" look. The grille is bigger and more defined, with separate inserts for regular and Avenir models. A cool signature feature is stretched pods for the standard LED headlights, accented with LED-backlit Acrylite panels (OK, yes, I'm a sucker for light effects).
One functional aspect of the new design is better visibility to the front. The Buick Enclave still has the fat windshield pillars common to most Buicks, but the positioning of the side mirrors on the front doors, plus a small, extra triangle window in each door, go a long way toward helping with the old model's blind spots, which could hide a pedestrian or bicyclist.
Quiet Zone
The most striking feature of the interior is its hush throughout, thanks to extra door sealing and insulation, acoustic windshield and front door glass, and Bose active noise cancelation. Even on gravel back roads, the SUV was quiet enough for normal conversation or enjoying the available Bose premium sound system (it's standard on the Premium and Avenir).
Interior materials are high-quality, yet they plant the Enclave squarely in just the premium or near-luxury category. The design aims at simplicity but succeeds in being blander than the outgoing Enclave. Sometimes less is more; sometimes it's just less.
The Enclave's interior is a mix of attention to detail and some missteps. The cupholder cover is cleverly designed so things won't get lost in the gap when it opens, but the cupholders themselves are hard, one-size-fits-all circles that leave some cups loose or rattling.
Interior surfaces are pleasing to the eye and mostly soft to the touch, but they devolve into more mainstream-brand plastic close to the floor and in the back row. There's also prominent use of faux wood and metal-finish plastic trim. This is not an Audi Q7 luxury hauler, but neither is it priced like one. By comparison, the rival MDX looks a little downscale in terms of design and some materials next to the new Enclave. The Buick also has ample interior storage spaces for a family, including a handy purse-size storage space under the console.
Size Matters
While Buick continues to call the Enclave mid-size, it is one big SUV — a little bigger, even, than the outgoing model, with roughly the footprint of the truck-based, full-size GMC Yukon SUV. It's substantially bigger than the downsized GMC Acadia (formerly a sister, like the Traverse), which now rides a shorter-wheelbase version of this new platform. It wears the "mid-size" label more comfortably.
The Buick Enclave's interior space is a match for any competitor short of a minivan. The front seats — leather in all but the base Enclave — are big and well-padded. They were comfortable even for an all-day drive. Other drivers, however, felt the wide center console intruded on their knee space.
The second row features standard captain's chairs (heated on the Premium and Avenir) that offer a comfortable seating position, with about 15 inches of seat height, plus recline and slide for more room — or for compromising with third-row passengers.
The third row — a primary reason to get a big SUV — proved more than acceptable for adults (two, anyway), a fact Buick highlighted by putting journalists back there while shuttling around Atlanta, and even for airport runs that pushed two hours. Our test vehicle's double moonroof helped alleviate the cave-like feeling common to many third rows.
Third-row space, seating position (height is about 13 inches) and overall comfort beat the MDX and QX60. There's also better walk-in access thanks to the slightly longer wheelbase, big rear doors and a standard tilt-and-slide captain's chair, which operates even with a forward-facing child seat in place. Just the passenger side chair moves this way, however, which Buick says is a GM safety edict.
There was enough leg and shoulder room in the third row for a pair of 6-foot-plus adults seated behind adults in the second row. Headroom, however, was limited by the curve of the roof, a problem not encountered in the more squared-off Traverse or Volkswagen's new Atlas. My head rested against the sloping headliner. There are seat belts for three in the back, but if you regularly haul three back there, you might want to consider a minivan.
The big Enclave also excels when it comes to cargo space: 23.6 cubic feet with the third row up and 58 with it folded (power folding optional). With both rows down, there are 97.6 cubic feet. There's also a useful 3-cubic-foot bin under the rear cargo floor, below which is a cleverly hidden temporary spare tire. If cargo space is important, the Enclave should be your choice over the MDX, which has 15.8/43.4/90.9 cubic feet to hold your stuff. And if the Enclave's inside space isn't enough, it can tow 5,000 pounds with the trailer package. The MDX has the same rating.
How It Drives
The Enclave's revised 310-horsepower, 3.6-liter V-6 is plenty punchy for the kind of driving a vehicle like this will see. The new nine-speed transmission is mostly smooth and responsive; it's not too quick on the upshift in the service of fuel economy but has quick, positive downshifts for passing. It seemed tuned to be unobtrusive and went about its business mostly without fuss. The only quarrel I had with it was its behavior at lower speeds — where I encountered some hesitation and stumbling with both downshifts and upshifts — and its handling of quick accelerator pedal motions.
The powertrain (and shedding more than 350 pounds) makes the 2018 feel gutsier than the old Buick Enclave, with an acceptable zero-to-60-mph time of 6.4 seconds (7.1 with all-wheel drive), Buick says. Fuel economy is also significantly better, in part thanks to an engine stop-start system that you can't turn off. The 2018's EPA-estimated combined gas mileage rating is up 3 mpg, to 21 mpg, with front-wheel drive; it's rated 20 mpg combined with all-wheel drive. Compare the 2018 and 2017 here. Those numbers still lag the MDX and QX60; compare them here.
The transmission includes an "L" position that allows you to limit the range of gears the transmission will use, plus steering-wheel paddle shifters that let you select gears within the range. It's not a true manual mode, but it proved useful on up-and-down and winding mountain roads. A more questionable feature was the transmission shifter, however: an electronic toggle you'll get used to but never love. At least the lack of mechanical connection gets you a big storage space underneath.
The Enclave offers two tiers of all-wheel drive: a simpler system ($2,000) that's optional on the Essence trim, and a more sophisticated system ($2,300) for Premium and Avenir models. The more sophisticated system adds a twin-clutch rear differential that can shift torque between the left and right rear wheels, in addition to being able to shift up to 40 percent to the rear wheels in most situations. On our Premium model, it proved more than up to dealing with both loose gravel roads and Georgia red clay, as well as providing a handling boost on winding mountain roads. The base model does not offer either AWD system.
The Buick Enclave Premium I tested did not have GM's adaptive suspension system with a Sport setting; that's an option on the Avenir only. The regular suspension, though, with a new multilink design in the rear, combined a very comfortable ride with competent handling — though badly broken pavement could rattle its composure. There was less-than-expected lean in corners for such a tall, heavy vehicle — a departure from the old Enclave, which was comfortable but never let you forget its height. Steering didn't offer much road feedback, but it was precise and nicely weighted. The Enclave really was in its element on the freeway, where it invites you to run up the miles, but it didn't feel out of place or control while winding around rural mountain roads. The optional 20-inch wheels ($1,400) didn't seem to hurt ride comfort, though the 18s that are standard on all but the Avenir would likely be cushier.
Techno Pop
Enclaves come loaded with connections for the tech-intensive family, including two USB ports (both data) in a device bin under the dashboard and a 12-volt outlet below the console. The second row has a pair of USB charging ports and a 12-volt and household outlet, and even the back row has a pair of USB ports. There's also a 12-volt power outlet in the cargo area.
The Buick Enclave's multimedia system is GM's latest. It continues to be one of the most intuitive, user-friendly systems available, and it includes Apple CarPlay and Android Auto smartphone integration. The 8-inch touchscreen display is crisp, and system response was fast. The system also offers up to 60 quick-access buttons with stored settings, from favorite stations and satellite radio channels to navigation destinations.
Available is a rear-seat entertainment system with two 8-inch seatback screens and SD, USB, HDMI and wireless connectivity — with or without a DVD player.
OnStar provides emergency communications as well as a subscription-based 4G LTE connection for the Enclave's onboard Wi-Fi. The Premier I drove had the available 360-degree camera display, which offers surround, front and rear views. It comes in an $825 option package (it's standard on the Avenir) that also includes GM's rearview mirror video system that can switch from a regular mirror to a camera image of a wider, unobstructed view of the traffic behind you even when you're driving forward.
Buick's interior designers went with a cleaner, simpler look for the dash, which means fewer buttons and knobs. Thankfully they at least left a large, easy-to-reach knob for audio volume. (But why not a tuner knob, as well?)
Inexplicable Safety Exclusivity
The 2018 Enclave had not been crash-tested by the federal government or the Insurance Institute for Highway Safety as of publication.
The Buick offers top-of-the-line safety technology, but unfortunately reserves it for high-rollers who opt for the Buick Enclave Avenir — and even then, it's in a $2,095 option package. The package includes a full-speed front collision prevention system with automatic emergency braking and pedestrian detection, as well as adaptive cruise control with stop-and-go capability. It's bundled with the adaptive suspension. It's inexplicable that this level of safety technology is unavailable on other trim levels of a premium SUV given GM's stated commitment to safety — not to mention the proliferation of similarly competent systems to even compact cars these days.
Instead, you have to move up to the Essence trim level just to get rear cross-traffic warning and blind spot warning with lane change alert; that system looks beyond the blind spot for cars approaching quickly in the next lane. The Premium and Avenir add standard lane-keeping assist, front and rear parking sensors, and a low-speed front collision system with automatic emergency braking and pedestrian detection.
Near-Luxury Value
The 2018 Buick Enclave starts at a base price of $40,990, but Buick said anyone wanting that rock-bottom price should expect to have to order one; dealers are unlikely to have any sitting on their lots. The Essence starts at $45,210 with front-wheel drive, and the Premium is $49,010. All those prices are up a few hundred dollars from 2017. The new deluxe Avenir model starts at $54,410.
As a premium-brand product, the Buick Enclave offers value for buyers wanting a step up from mainstream SUVs but not the higher prices or showiness of a luxury one from the likes of BMW, Mercedes-Benz or Lexus. In that in-between space, the new Buick Enclave should have no trouble competing on value versus the MDX and QX60. It's fresher, far more spacious, competitively priced and definitely more up-to-date and user-friendly in terms of multimedia tech and connectivity. Compare it with these rivals here.
It's trickier for the Enclave (or the MDX for that matter) to claim status value over higher trim levels of the also-redone Chevy Traverse (which has a new, luxury High Country trim level) or the all-new Volkswagen Atlas in its SEL Premium garb. Both veer into the Buick Enclave's lane with quality materials and premium features. The Enclave has a classier badge and a higher-style look and feel, but also a bit higher price for a comparably equipped model. Volkswagen also offers significantly longer warranty coverage than GM, at six years/72,000 miles. Buick can, however, claim Top 10 brand reliability in Consumer Reports ratings. That beats Chevrolet and Volkswagen, but all three are solid three-row alternatives to a minivan — it might just come down to the look that appeals to you. Compare these vehicles here.