RAMSEY CORP IS HOME OF AUTO LOAN SPECIALIST ! THIS VEHICLE COMES WITH A FREE 3 MONTH WARRANTY; EXTENDED WARRANTIES AVAILABLE. FAMILY OWNED, NO COMMISSION SALES, NATIONWIDE SHIPPING RATES
Xenon Headlamps
Rear Parking Camera
2016 FORD FUSION SE
3FA6P0H76GR358405
SEDAN 4 DR 2.5L I4 F DOHC 16V
FRONT WHEEL DRIVE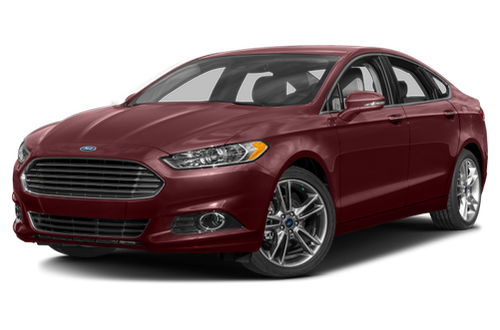 The Ford Fusion is an undeniably stylish, athletic, fun-to-drive midsize sedan, but its interior appointments won't match its exterior panache unless you're ready to open your wallet.
Ford's popular Fusion midsize sedan received a big makeover for 2013, adopting styling directly influenced by Aston Martin coupes. It's a rare flash of hot and sassy style in a sea of gray and boring midsize sedans, the rest of which are designed to be inoffensive and conservative. America seems to prefer consistency over uniqueness in everything from hamburgers to family sedans.
Switching to a global chassis for that redesign made the Fusion a completely different car, so it hasn't been updated all that much for the 2015 model year (compare 2014 and 2015 models here). But that's OK, as the 2015 Fusion is still one of the newest, freshest entries on the market. But is it good enough to wrest sales from the perennially popular Toyota Camry, Honda Accord and Nissan Altima?
Exterior & Styling
Few people would disagree: The Fusion is a very attractive car. Admittedly, higher-spec trim levels with bigger wheels and more chrome tend to look better, but even lower trims like my SE test vehicle — with its squinty headlights, big grille and shapely body — look good compared with the painfully generic Camry, Altima and Accord. It's long and low, and while that looks great for styling purposes, it does require something of a compromise on interior headroom and outward visibility. Seventeen-inch wheels are standard on the Fusion SE, as is a bright exhaust tip, but there isn't much additional flash on this midlevel trim. It's a good thing the styling doesn't really require any.
How It Drives
Out on the road, the Fusion's European influence really shines through. This is a car meant to appeal to buyers around the world, and in other nations buyers tend to like their cars tighter, sportier and with better feedback than most American-style vehicles. As such, the Fusion is quick, with handling that's responsive and decidedly sportier than most cars in its class.
Despite that firm handling, though, the Fusion's ride doesn't suffer. It's still well-damped over bumps and broken pavement, revealing a sophistication that's lacking from a lot of vehicles that cost more than the Fusion. During our 2015 $27,000 Midsize Sedan Challenge, many editors were surprised at the Fusion's athleticism and found themselves driving faster than they thought they were, thanks to the car's confidence-inspiring chassis, steering and strong brakes.
From a powertrain standpoint, there was less consensus on the Ford's abilities. Standard in the Fusion SE is a 175-horsepower, 2.5-liter four-cylinder engine, but my test car had the optional 181-hp, turbocharged 1.5-liter four-cylinder EcoBoost engine. If you require more power, a 231-hp, turbocharged 2.0-liter EcoBoost four-cylinder is available. If maximum fuel economy is more your thing, a 141-hp, 2.0-liter four-cylinder is available in a gas-electric hybrid model.
Opinions of the 1.5-liter EcoBoost's performance differed. I and several other editors found it perfectly adequate to the task of getting the Fusion around with a modicum of speed, providing brisk acceleration, no noticeable turbo lag and decent fuel economy. But a few colleagues disagreed, finding it pokey and inadequate compared with similarly powerful engines in the much lighter Camry, Accord and Altima. (Most competitors, it seems, are lighter than the Fusion; in our big comparison test, only the Chrysler 200 and Subaru Legacy outweighed it.)
The reason for putting such a small engine in a hefty car like the Fusion is to boost fuel economy without sacrificing performance, but we're not entirely certain that was accomplished. It costs an extra $795 — not much for an engine upgrade – and the 1.5-liter EcoBoost motor provides an EPA-rated 24/36/28 mpg city/highway/combined, a figure we were able to duplicate in a mileage test. Opt for the version with stop-start technology, and those numbers all go up by 1 mpg, to 25/37/29 mpg.
The base 2.5-liter engine, however, is rated 22/34/26 mpg, which is on the low end versus competitors. The base Camry gets a 25/35/28 mpg rating, while the Accord's 27/36/31 mpg and the Altima's 27/38/31 blow the Fusion away. Part of the advantage the Accord and Altima have are their standard continuously variable automatic transmissions, which are inherently more fuel-efficient than the six-speed automatic that comes standard in the Fusion. If fuel economy is what you want, the Fusion Hybrid is rated 44/41/42 mpg, but even that falls short of the Honda Accord Hybrid's 50/45/47 mpg rating. The Fusion can also be had as a plug-in hybrid model that's able to go a short distance on electric power alone; the Accord offers a similar model. A hybrid Camry is also available, but the Altima can't be had in hybrid form.
Interior
The Fusion's daring design carries over to the interior, in which an attractive futuristic landscape is rendered in some unfortunately substandard plastics and fabrics. Higher-spec Fusions have wood trim, genuinely attractive patterned leather seats, neat color and lighting options, and impressive high-end electronics. Low-end Fusions, like the SE I drove, have the lesser version of Ford's Sync multimedia system, plus ugly, shapeless fabric seats and a primitive feel that doesn't match the quality appointments of a similarly priced Accord or Altima. The front seats' bottom cushions feel short, and the fabric and stitching pattern look and feel laughably cheap.
Front seat room is acceptable, if a bit narrow due to an unusually wide center console. Backseat room is tight in the leg and headroom departments — the price one pays for the Fusion's slippery styling. That styling also impedes outward visibility, with thick windshield pillars obscuring the view forward and creating bigger than normal blind spots. Overall, the consensus among our editors was that the Fusion's good looks outside aren't matched by its interior appointments, and it's definitely outclassed by competitors like the Accord and Altima – though not the Camry, which features similarly cheap-feeling interiors in its lower trim models.
Ergonomics & Electronics
The user-friendliness of the base multimedia system is terrible, with an astonishingly tiny display screen set low in the console, plus layers of buttons and confusing menus. Not only that, but if you have a lot of songs on your personal media device (as I do), as soon as you plug it in a voice will tell you that due to the number of songs, Sync's voice commands will not be available — effectively negating one of the chief benefits that system is supposed to bring to the party. Given how cheap electronic memory is these days, this seems highly unusual – and it's something that didn't happen in any other car in our Midsize Sedan Challenge. The Fusion's multimedia system is outclassed by just about every other competitor, and is truly embarrassed by the Chrysler 200's Uconnect 8.4-inch touch-screen.
The only saving grace of the Fusion's controls is that none of them are the touch-sensitive, blank-panel type that come on higher trim levels. In the SE, you get dedicated buttons that are big, if a little strangely arranged on the console. The rest of the Fusion's controls are well-done. Clear, easy-to-read gauges flank a small display screen, and the chunky steering wheel features two five-way selectors.
Cargo & Storage
In-cabin storage is adequate, but not as functional as some competitors despite what seems to be plenty of real estate in the wide center console. Trunk room is better than most, featuring 16.0 cubic feet of space — more than the Camry (15.4 cubic feet), Accord (15.8 cubic feet) or Altima (15.4 cubic feet). You can thank the high tail's styling, which enables a deep and tall trunk to stash luggage or gear. The backseat features a 60/40-split folding bench to accommodate longer items. Most midsize sedans feature such a backseat, with the notable exception of the Honda Accord.
Safety
The Fusion earned mixed results in National Highway Traffic Safety Administration crash tests, varying from three-star ratings in a couple of side-impact tests to five stars in most tests, including overall crash-test rating. See results of the tests
here
.
The Fusion has an interesting feature unique to Ford: optional inflatable rear seat belts. The rear shoulder belts contain special low-powered airbags that inflate to create a larger surface area, which better protects children from injury in a crash by spreading out the force of impact over a larger area, lessening the severity of the jolt.
The Fusion's list of electronic safety aids is an impressive one, including adaptive cruise control, blind spot warning, cross-traffic alert, even automatic parallel and perpendicular parking – but nearly all of it is optional, aside from a standard backup camera. See the list of what comes standard on the Fusion here.
Value in Its Class
The Fusion starts as a base S trim for $23,225 including destination fee, which gets you things like the 2.5-liter four-cylinder engine, an automatic transmission, air conditioning, one-touch up and down windows front and rear, cruise control, a full complement of airbags, Ford's basic Sync multimedia system and a few other niceties. Step up to the SE, for $24,760, and you'll get things like 17-inch wheels, a standard power driver and passenger seat, and the ability to add optional leather seats and adaptive cruise control. Opting for the SE all-wheel-drive adds $3,795 to the price as well as a bit more content, including the most powerful engine – the 2.0-liter EcoBoost — 18-inch wheels and more. The top-of-the-line Fusion is the Titanium trim, which has leather seats, available 19-inch wheels, a 12-speaker Sony audio system and more, for a starting price of $31,425. Option a non-hybrid Fusion up completely, and you're looking at a loaded Titanium all-wheel drive model that costs more than $40,000. The most expensive Fusion you can buy, however, is the Energi plug-in hybrid. Option that one to the max, and you'll push north of $44,000. Configure a Fusion your way
here
.
There are nearly a dozen possible competitors to the Ford Fusion, and the competition is fierce. The Fusion routinely places just behind the top three finishers in the segment in sales every month. Tops is the Camry, which was just redesigned for 2015. Like the Fusion, base Camrys are not as pleasant to be in as higher-trim models, but unlike the Fusion the Camry can be had with a powerful V-6 engine. The Camry feels larger inside, but doesn't offer all-wheel drive. Pricing is similar, but the Fusion can be optioned up to more advanced levels of technology, with extras like automatic parking and rain-sensing wipers available on lower trims.
The Accord is an older design but features great benefits like a spacious cabin, much better interior materials than the Fusion, Honda's novel LaneWatch blind spot monitor and an optional V-6. It suffers from a backseat that folds only as a single bench, plus a split-level multimedia system that isn't much easier to operate than the Fusion's base system. The Altima is another good option, also featuring an interior that some say feels more spacious and comfortable than the Fusion's, better fuel economy (thanks to its standard CVT) and an optional V-6. But its interior comfort is a matter of debate, with some drivers not enjoying the Altima's seats at all. See how these four competitors match up